Everyone knows that the holiday season can add some extra stress, especially when it comes to preparing big meals for lots of guests!  These ____ tips will help your holiday meals go as smoothly as possible!  Let us know what you think in the comments, or share some tips of your own.  We'd like to wish everyone Happy Holidays!
1. Have the right tools in your kitchen.
People often take for granted the tools they have in their kitchen every day.  Things that get used semi-frequently, like a set of steak knives, wear out over time, and need to be replaced or repaired to make sure they are functioning at their best.  Meanwhile, things that don't get used very often (like that carving knife) may have rusted or broken without you noticing, especially if it has been awhile since the last time you used it.  This is why it is so important to give your kitchen equipment a once-over before things get too hectic.  The last thing you want is finding out at the last minute that a key piece of equipment isn't working!  Sha-Pu knives are made from top quality damascus and hammered steel, to make sure they are more durable, and stay sharper longer than others.  And, our whetstone set is perfect to put the edge back on those dull knives you've never sharpened.
2. Plan ahead.
Keep a schedule or calendar of upcoming events, so you know how much time you have to prepare.  This time of year is especially hectic for everyone, and it is easy to get caught up in the hustle and bustle and forget about an upcoming gathering.  Make sure you keep an eye on the future so something doesn't sneak up on you!  Create a list of meals you're planning to cook, and the ingredients that you'll need for each meal.  That way, you can hopefully get all of the things you need at once!
3. Meal prep.
If you have a big event coming up, take some time to prepare.  No one likes peeling, chopping, or preparing ingredients, but when you go to make the big meal and have all of those things already done, it will make a world of difference.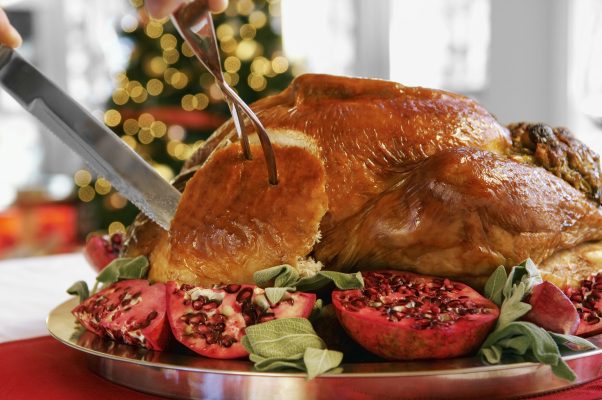 4. Don't go overboard.
Don't expect too much of yourself when it comes to recipes.  Stick with things that are tried and true, to avoid unnecessary extra stress and uncertainty.  There are plenty of great recipes online that use simple ingredients, and don't take all day to cook.
5. Limit waste.
During the holiday season, leftovers can be your best friend.  It is so much easier to have leftovers for lunch than to worry about making something new for every meal.  Plus, there's no point in letting all of the delicious food that you cooked go to waste!
6. Limit your temptation by keeping healthy snacks close.
To avoid the infamous holiday weight gain, limit your temptation.  No doubt you will have access to all kinds of cookies and treats, but fend this temptation off by keeping healthy snacks close at all times.  Snacking on fruits or things like carrot sticks will ward off hunger and help you resist the urge to reach for more cookies.  But, it is also important to remember that is okay to splurge just a little during the holidays!