The Japanese style of sword making has long been known as one of the best and most labor intensive in the world. Historically, creating blades was considered a sacred art. In the late 13th and early 14th century, lived Masamune, Japan's greatest swordsmith. His swords were known not only for their quality but also for their unmatched beauty. Masamune is believed to have trained many great swordsmiths, but there are 10 who stand above the rest, his 10 Great Disciples. One of these disciples was Kinju, a monk who is the creator of the Seki tradition, based in Japan's legendary Seki city. All of our knives are inspired by this traditional process. By combining modern technology and state of the art manufacturing with the ancient forging skills to create world-class cutlery. Our knives undergo a rigorous 45-day manufacturing process that involves 40 artisans and 100 distinct and important steps. This complex process is key to providing the quality that we desire in each Shā-Pu knife. Our premium Damascus Steel blades are harder and stay sharper longer. The blades' handles are carefully crafted with linen micarta resin, one of the most durable materials for knife handles that provides a consistently strong grip, even when wet.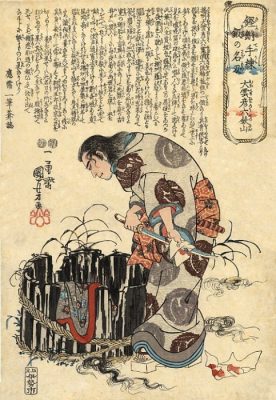 Masamune
All of our whetstones are carefully crafted from professional grade Corundum, ensuring functionality and durability. Each of our waterstone kits undergoes a detailed third-party inspection, to ensure that our standards of quality are met. None of our whetstones require oil to be used, and simply need to be soaked for several minutes prior to use, another way to save time and simplify the sharpening and cleanup process. Another tool to accomplish this is the recently added Rare Acacia Wood Sink Bridge, which allows you to sharpen your knives right in the sink to avoid mess. The premium Acacia wood is a high quality hardwood that has natural antibacterial properties and is naturally water resistant. Acacia wood has a very high hardness score, meaning it is extremely durable and almost impossible to warp, unlike other bamboo sink bridges
We are so sure about the quality of our products that our knives all come with a no-risk, 100% money back satisfaction guarantee. If at any time you are unhappy with your purchase, we will give you a complete refund. Similarly, all of our whetstones come with a 1 year, risk-free 100% money back guarantee.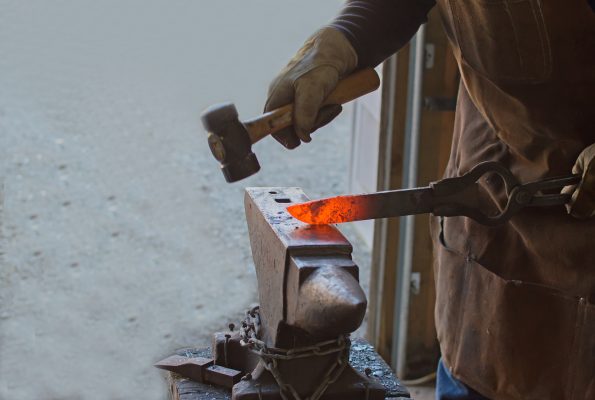 A blade takes shape
To maintain the quality and effectiveness of our products, maintenance is also an important consideration after your purchase. Damascus Steel knives stay sharper longer than most knives, but it is important to sharpen them regularly in order to maintain the level of quality they have when they are new. Sharper knives are safer to use than dull knives, as they are less likely to catch or slip, which could cause injury. To maintain the whetstone set, it is crucial that you allow the stones to dry once use has concluded, prior to storing them in the case again. The stones absorb some water while they are submerged, and need to dry before they can be stored.